The demands of your job mean you've always got a lot on your plate. There are clients to deal with, meetings to attend and cars that need maintenance. But no matter what else is happening, if you want to win auctions, you need to keep an eye on your bids.
The OPENLANE app—
only available for continental European customers
—is the perfect tool for tracking your bids. You can also discover and bid on cars anytime, anywhere.
Discover the OPENLANE app benefits:

1. Find cars quickly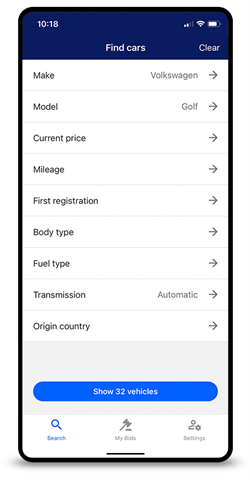 Search for vehicles based on all sorts of parameters, including:
• Make
• Model
• Price
• Mileage
• Fuel type
Never miss an auction! They're sorted by end date, so you can quickly see which auctions need your attention first.
All the information you need about a car that's up for auction is on the car details page, including:
• Car profile
• Included equipment
• Damage report
• Delivery options
2. Browse auctions and place bids when it suits you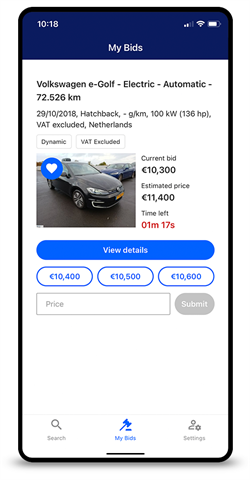 The app lets you place and manage bids when it's convenient for you. You can also keep track of any bids you placed on the website, so you're never chained to your desk.
Mobile bidding with the OPENLANE app is a piece of cake. Simply:
• select a quick bid amount; or
• type in the amount of your choice.
Tip:
We know how easy it is to hit buttons accidentally when using a mobile device. Activate the double confirmation option and you'll never have to worry about placing a bid you didn't intend to.
3. Win more auctions!
Winning an auction isn't a guaranteed sale. The seller still needs to accept your offer.
Ultimo
helps continental European customers maximise the chance of being assigned a vehicle. It gives you an extra five minutes in which you can make your best and final offer. When you receive the notification that the auction has ended and you are the highest bidder, you can immediately raise your bid to entice the seller to accept your offer.
Discover Ultimo now
!
More than 10,000 downloads and counting!
As a continental European customer, you can also download the OPENLANE app to experience maximum convenience.
⇒
Go to Google Play (Android)
⇒
Go to App Store (iOS)
Any questions?
Our friendly team is happy to help!
Click here to contact us
.